Hi friends! The past couple of weeks, I feel like I have been so out of touch with blog world. Sure,
y'all
still have three weekly posts to read from me, but what you don't see is the behind the scenes of it all-- and to be honest, there really isn't much to see. I have been quickly typing up a post, or publishing drafts I've had saved for a rainy day when my brain just isn't working [
happens a little too often
].
On top of my surgery a few months ago, Raymond ended up getting a horrible toothache followed by a miserable sinus infection the next week. His toothache kept him from eating for 2 days and from working for 5. Needless to say, we've felt like we're in the middle of a hurricane these days! Saturday was my first day off in 12 days, and about half of those days we're spent working 12+ hours. I have been busting my butt at work to try and help make up for all of the time we've been missing due to our ailments.
Life lately has been a whirlwind. Physically, mentally, and emotionally, life has been hectic, busy, and as I mentioned before,
a little trying at times
. No worries though, things are finally starting to fall back into place [
slowly, but surely
] and eventually I'll be able to spend more time chatting with you lovelies again.
Other than working like a dog, things around these parts haven't been all bad. A couple of updates are definitely in store if you're a nosy blog reader like me and like to know everything about the author...
+ With an entire weekend of free time, I decided that it was going to be spent doing nothing productive. My plan was to sleep in, nap, rest, spend a little time watching trashy television, snuggling with Guero, and hopefully convincing Raymond to give me a foot/back rub.
+ Saturday we watched the Red River Rivalry and let's just say it didn't go so well for us Longhorns. That's as far as I want to get into it! Dinner out with my honey at our favorite hole in the wall, and then drinks and pumpkin carving at my best friend's house made for a perfect Saturday night.
+ We have a Halloween party to attend next Friday and are seriously struggling to come up with costume ideas. Last year we were
white trash bikers
but are at a loss for something fun. Anyone have any good ideas or past costumes to share? Please do so!
+ I know I said that I wasn't going to do anything productive, but Sunday morning I woke up and cleaned the heck out of our apartment. Bathroom, kitchen, living room, vacuuming scrubbing, dishes, laundry-- you name it, I did it. We had friend's coming over for the Cowboy's game [
again- let's not talk about this game either
], and not having time to
really
clean in weeks took it's toll and I couldn't bare to have people see our dump of a home.
+ While carving pumpkins Saturday night, my friend Amanda and I were discussing how we wanted to save the seeds so we could roast them and have them to snack on, when we got the weirdest looks from Raymond and our other friends. I know blog world is crazy about all things pumpkin, so I have to ask-- does roasting pumpkin seeds sound foreign to y'all or are my friends the crazy ones? I thought this was something everyone knew about!
+ Today marks week three of four that I was told to wait by the specialist for my wound to heal. He said it would take a lot of patience but if there is no progress within four weeks, another surgery will be in store for me. Well, unfortunately for me, it seems as though things aren't getting any better or closer to healing. To be honest, I'm ready to just have surgery again and hopefully get things moving. I'm tired of being cautious and uncomfortable and this past week, things are getting a little painful. I'm just over and done with being patient!
+ Guero is getting his chi-chis chopped off next Monday and I'm a bit nervous. I don't know if I should stay home with him for a few days or are we okay to go to work as normal? This may sound weird-- but Guero is unlike any animal we've ever come across and he is just, different [
in a good way
] and I just have weird feelings that he's going to have a difficult time with this. Anyone have any tips or advice on neutering?
+ Fall weather still hasn't graced us yet here in Austin. I'm constantly wearing my Christmas pajamas and socks and burning my fall candles, but it just isn't enough to make up for the heat.
+ I have had a few readers email me in regards to my
I Am The Girl
posts [edition
one
and
two
]. I am SO thrilled that y'all love them and the idea of them so much so that you want to do them as well! I have created a button that I would really appreciate you add to any IATG posts you decide to write. I believe we all deserve credit where credit is due! I am even considering making it a monthly link-up...
would you guys be interested in participating?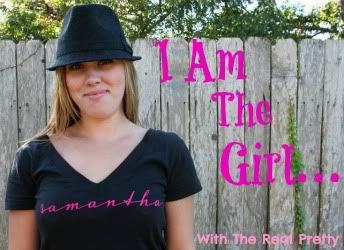 I wish I had more fun, awesome events to share with y'all, but when life is hectic, social life takes a back seat. Sometimes it's okay to be boring, though!
What's going on in your neck of the woods? Fill me in, friends!